We have stressed a "no comparison" rule so that no one would feel that their "expression" was inferior to someone else's. In fact, here is what I put on the inside of our invitation: (the left side when you open it.)


And in case you're wondering about the right side of the invitation, the main content of the invitation, here's what that said. I guess I need to mention first that on the cover it said, "You're invited..." So then you open it to read:
To Our Annual
Homeschool
Presentation Night
When: Monday; May 14, 2001 at 7pm
Place: East Hills Alliance Church
1405 Burcham / Kelso, Wash.
This is a time when homeschoolers
present a variety of talents and presentations
during the sit-and-watch portion of the program,
followed by a table-viewing time where each
family has a table of projects and favorite
resources they have used.
(Refreshments will be served.)
Hoping you'll be able to join us,
_________________________________
(child signs name here)
If you could RSVP (423-4912 or CarlianneS@aol.com),
it would greatly help.
As for the cover... The only thing I put on it was "You're Invited..." at the very top, leaving the whole page blank for Carlianne to do her stamping on! They turned out very nicely! Then on

the back we put a "Hand Stamped by" and Carlianne wrote her name! She made the envelopes out of old calendar pages! I have been saving these for years, storing them behind my dresser. Every time we pull that away from the wall (to rescue something that fell behind), Dave says "Isn't it about time to throw those calendars away?" to which I submissively answer "NO WAY!!! I'm SAVING them!!!" to which he replies "For what?" to which I respond "I have no idea, but they're too pretty to throw away!!! Besides, they're not taking up any room back here, right?" (of course

I'm right!), to which he adds "No, but they're sure collecting dust!" And so they are; but dust can be fixed with one whisk of a cloth. Well, all that to say now that I have my trusty envelope templates (from Stampin' Up"), we are making THE most BEAUTIFUL envelopes!!! You just place the see-through template on the paper (calendar, wallpaper sample, gift wrap, etc.), trace around it, cut it out, and fold and glue the edges.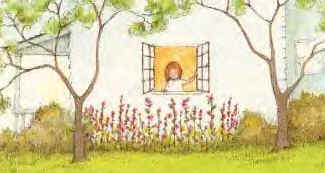 The evening went wonderfully with a wide variety of presentations made by the kids, and with every table laden with expressions of each family's unique interests, some very simple; some very elaborate. One table showed memories of the family's trip to France; another the drawings made by tiny tots; another all the various

notebooks the children have been working on, and another a potpourri of the children's various interests ~ which is my approach...
I never think we're going to have enough to put on the table, especially with

just one child now! But I ended up running out of room! We put a few rubber stamps, stamp pads, and stamped items she has made in one area with a little sign saying "I love rubberstamping!" as well as her favorite books (with a sign saying that), a family photo, her three favorite music CD's (including "my sister, Sharnessa, in V*Enna"), a one-page spread of the two weddings last August, her own little photo album, another one-page display of her learning some dance steps from Sharnessa, taken from her Dance Notebook, which was also there. ... Have you noticed that, thus far, nothing has been academic?

That's why I threw in the "Mavis Beacon Teaches Typing" and "FrontPage" (web design program) boxes, and a few of

the "real books" we have used for her studies. We also had her "Weekly Plan" on a clipboard ~ the one she did the best on of course ~ sitting on the table.

I had saved all the sprigs of ivy from around the pole support of Sharnessa's wedding cake (which I had scrounged from a box of junk they were discarding at a craft store ~ but when they saw that I wanted it, charged me for!), and put that around and between all the various items on her table.
I should probably mention that decorating tables is not my forté, but I think it looked pretty neat! I actually glean ideas from what others do at *their* tables each year! Oh yes, and remember the boys who did the web page presentation? Well, Carlianne, as you know, has also done several web pages, so we had our laptop computer set up between our two tables (theirs and ours) and the kids took turns showing people their web pages right on the computer! (Click here to go to Carlianne's Main Page.)

Before putting our house back together today, (and I assure you it IS a MESS!), I need to re-assemble Carlianne's table. I TOTALLY forgot to get a picture of it, and that's something I do every year! I did think of it once, but then someone interested in homeschooling (had THREE of those last night) came up to talk to me, and the next thing I knew, Carlianne was packing things into boxes!
There was such a fun diversity of presentations! Of course, we had

a few of the "typical" piano and singing presentations, but even those were special. One girl, age fifteen, has been taking voice lessons all year, so she sang one of her songs. One of the boys who did a piano piece shared why he chose "Turn Your Eyes Upon Jesus" and how he applies that song

to playing baseball; his brother shared a bit about the composer of the classical song he chose. A fourteen-year-old girl did a baton

routine, a little six-year-old girl sang a little song she made up (which was beautiful!), and two little boys dressed in their suits read a short book. A three-year-old boy and his five-year-old sister each sang a favorite Christian song acappella and were absolutely

DARLING with their lisps! A five-year-old boy brought his "Armor of God" costume and recited Ephesians 6:10, and another boy brought his Garfield collection and presented a short report on the history of Garfield! Two other boys, age twelve and ten, who have done their own web pages, explained how the internet and "World Wide Web" work, as well as an intro to HTML

coding! A ten-year-old girl presented a poster she'd drawn of her goat which she's working on in 4-H. Carlianne danced (hip-hop, like what V*Enna does) with three friends who are homeschooled. What a variety!!! And all out of the "real lives" of these people!

In case you came straight to this page without knowing what "Homeschool Presentation Night" even is, you can read all about it on my HSPN web pages here at my website. (The links are at the bottom of this page.) I even have all the job descriptions so that anyone wanting to do one of their own will be able to organize it in such a manner that all the work doesn't end up falling on one person. It's not really *that* much work (unless you choose to do it more elaborately), but spreading out all the responsibilities among those who participate makes it very "do-able."