A Review of
Senior High:
A Home-Designed
Form+U+la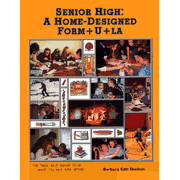 Review by Dawn Stringer
(Book by Barb Shelton)
Wow! What a book! This book has totally changed my view on what education can be. We are facing high school at home for the first

time next year, and to be quite frank, it has scared me to death. This book has helped to ease those fears.

In this book Barbara Shelton shows how to plan your child's high school years in a non-traditional way. You will learn how to take your student's everyday experiences and interests along with traditional academics and form them into classes, how to translate these into equivalent credits, set priorities and goals, plan organize and document your student's achievements. She also shows us the importance of seeking God's will when planning for our children's education.

The book is divided into 8 sections: Reinforcement for the Fainthearted, Requirements for Graduation & Promotion, Record Keeping System, Potpourri of Curriculum Supplements, Grading Guidelines & Portfolios, Personalizing All this Stuff ( which includes formulating your framework, designing your classes, and organizing your materials), Lifestyle of Learning Applications, and finally a Resource Section.

Senior High: A Home-Designed Form+U+La is not a book that will take you by the hand and give you a step-by-step blueprint of everything your high schooler will need to finish high school, although she does give step-by-step instructions for several aspects of the process, such as setting up your student's High School Notebook, coming up with your own Master Framework Plan, and designing your own classes! (See section 6). What it does is give you the freedom and the knowledge to create your own high school program.

If you plan on homeschooling through high school, I highly recommend that you purchase this book. It is a treasure trove of wisdom and resources that will make the high school experience more pleasurable for you and your student.
(Her name is a link to her website!)