A Fairy Tale
Wedding
by Kelli Johnson






Directly following this article is a
letter to the couple from
Diane Leasure

by Kelli Johnson
It was an amazing event. A church softly lit with strings of tiny white lights and white mesh along the pews. A true Prince and Princess stood taking their vows before our God and many witnesses. That's not so unique though, is it? Haven't most of us been to weddings before? What set this wedding apart was the KISS. Yes, I said "kiss." Are you ready for this? It was their FIRST kiss ~ at the altar, and in front of everybody. Jay and I felt like we were intruding a little on that special moment. We were so happy for them our eyes welled up with tears.
Traditional vows were spoken first, then the same vows spoken again in Swedish since the Prince was from Sweden, and then a third time they said their own personal vows that they had written. In those, their hearts for God and each other really came through. A sold-out love was expressed reaffirming their desire for a marriage completely devoted to God. I think the only thing missing was the white horse. (Knowing the Princess, I am sure she probably tried, but was denied because of city ordinances or something like that... Just kidding! ... Sort of!)
True love and trust, don't you think? When two hearts devote their lives to God and keep their actions pure. This was a testimony of complete commitment before Him and toward each other. Jay and I felt as if we had witnessed a great spiritual transaction before the Lord like we had never seen before. We felt privileged to be a part of it. I am not sure if you have heard of this concept before, but what this couple had committed themselves to is something called "courtship."
This isn't something that generally somebody just wakes up one teenage morning and decides to do. It is a mindset that we as parents begin setting when our children are toddlers. Yes, I said toddlers! Many of us were not raised with this mindset. In fact, just the opposite. I remember having a "boyfriend" when I was in Kindergarten! "Now that's just innocent childhood" you might say, but nonetheless many subtle words and actions can lead our children astray and into believing that this is only "normal." While some may agree that in today's world it is "normal," it isn't something that we need to settle for.
If you are just now getting introduced to this concept here in this article, you may not understand why this might be considered "settling for something less." If you'd like to know more, Barb Shelton has several articles on this topic at her Article Chart in the "Romance & Relationships God's Way" section, which is the fourth section down. She gives a basic intro to this concept in her "From My Heart" article, and her now-grown children Sharnessa and Tory both have articles on different aspects of this message. Plus there are four other articles that help explain it even further.
We encourage you, as a couple, to go before the Lord, seek His will, study this subject and be willing to follow His answer for your children. We are so proud of parents Dave and Barb Shelton and many others who have paved the way by helping direct their children's hearts toward the Lord, and toward purity with the opposite gender. They encourage their kids to save their whole hearts for "the one," not waste precious time on "the dating game" which actually prepares more for divorce than for marriage. They led them, instead, to use these single years to draw closer to the Lord, and thus bring a healthier, more mature person to a marriage, if and when God leads that way.

P.S. from Barb...

Kelli is a dear friend of mine ~ actually our whole families are friends ~ so she attended this wedding (with her husband, Jay) not as a reporter, but as a friend. However, she did a great job of "reporting" the parts that were dearest to my heart too!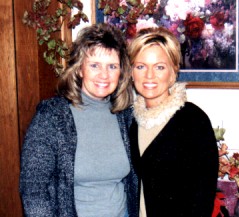 Kelli has a ministry and website called "Home Grown Families" that I know you will enjoy and be edified greatly at! Here is a link to their website.

The crown at the very top of the page is the actual crown Sharnessa wore in her wedding. Well, it's the one at the Tiara Town website she got it from; so this isn't the exact item; just the same model! You can go to Tiara Town's website by clicking on the crown!

Oh, and about that white horse... Kelli must not realize this, but Kindra, Sharnessa's matron of honor, tried to get one for Sam to pay a visit to the shower riding upon, but she wasn't able to do so because of the unavailability of a white horse. ;-)

Here is a picture of the newly wedded couple,
Mr. and Mrs. Samuel Sandén:

HAPPY ANNIVERSARY, YOU TWO!!!!!!!!!!!!!! I remember the day like it was ... well, last year, maybe. =) This helps: http://www.homeschooloasis.com/art_a_fairy_tale_wedding.htm (OK, maybe more like *two* years... or three...)
The following letter was written by a friend of mine,
Diane Leasure, the evening of August 19, 2000, after she
had returned home from the wedding...
Dear Sharnessa & Sam,

Well, hopefully by now you are unwinding from your very exciting and special day! I wanted to take a few minutes while these thoughts are fresh in my heart and while I know I can get them in the mail to you to receive while you are still in the States!

First, I want to thank you for allowing my daughters and I to attend your wedding, especially having never met us! I was SO sorry my husband was not able to be there. As a pastor, he would have so appreciated the meaningful manner in which you made your Covenant of Marriage before the Lord!

Secondly, I wanted to thank you, Sharnessa, once again, for the example of purity, and all that is lovely in the sight of our Lord, to my girls (and for all other young girls as well)! As I'm sure you will remember when you were a young girl, they watch young adult ladies with great fascination as dreams are being spun in their precious minds, hearts and souls. It brings such joy and appreciation to my heart, as a mom, that there are becoming more and more in this generation of young women and men who desire to uphold and honor God's plan for singlehood and marriage. Not for the sake of "prudeness," or "propriety;" but for Holiness in our Lord's sight; and because they believe in faith that God will honor their obedience with a lifetime of married blessings!

Your wedding ceremony was truly breathless. It was beautiful, imaginative, creative, fun and awesomely holy! There were moments captured in my mind that will remain forever; three, in particular, that I want to share with you:

Sam walking down the aisle, looking so princely and handsome (don't blush, now Sam) and then kneeling and bowing before the Cross of Jesus in prayer (for much longer than would be just for show)!

Your parents lighting the candles, which in turn lit your unity candle…. Ahhh, that "leaving and cleaving"!

And, that precious first kiss.

Oh, yes… there's a fourth memory: The loving expression on Sam's face as he spoke his personal vows to you.

Those don't count the sweet memories of you (Sharnessa) walking down the aisle [on the arm of her crying Daddy!], hearing "The Wedding Song" again (haven't heard it in ages... and we had it played at our wedding [we had it in ours too!]), Sam lovingly holding the microphone for you to say your vows, and the way you two greeted everyone in the sanctuary as they left!

Thank you again for sharing your very special day! We will be praying for you as you begin your life as husband and wife. And, Sharn, we are really looking forward to that CD coming out! [That was Sept. 26th of 2000.] God Speed and God's Blessings to you!

In Christ,
Diane Leasure

And here is one more picture that I love!
(Looking ahead ~ to their future, of course!)